Participation in research
In science, scientific laypersons are increasingly participating in research processes, so that there is potential for promoting an understanding of science. However, it has not yet been clarified what effects participation in research processes has on an understanding of science and what conditions must be met for this to happen. While in formal contexts teaching-learning concepts for inquiry-based learning support individual research processes, in non-formal contexts it is still unclear how open research processes can be structured. Our research projects address the question of how participation in research processes can be promoted and how research-based learning can be supported.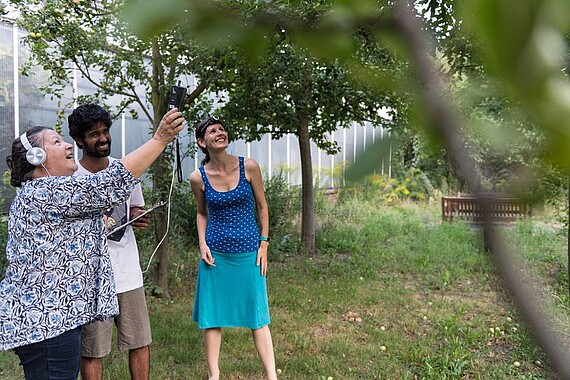 Selected publications
Bruckermann

, T.,

Greving

, H.,

Schumann

, A.,

Stillfried

, M.,

Börner

, K.,

Kimmig

, S. E., Hagen, R., Brandt, M., &

Harms

, U. (2022).

Scientific

reasoning

skills

predict

topic

-

specific

knowledge

after

participation

in a

citizen

science

project

on urban

wildlife

ecology

. Journal of

Research

in

Science

Teaching

.

Advance

online

publication

. https://doi.org/10.1002/tea.21835
Bruckermann, T., Greving, H., Schumann, A., Stillfried, M., Börner, K., Kimmig, S., Hagen, R., Brandt, M., & Harms, U. (2021). To know about science is to love it? Unraveling cause-effect relationships between knowledge and attitudes toward science in citizen science on urban wildlife ecology. Journal of Research in Science Teaching, 58(8), 1179-1202. https://doi.org/10.1002/tea.21697 *Top Cited Article 2021–2022, **Top Downloaded Article 2021–2022
Greving, H.

, Bruckermann, T.

, Schumann, A., Stillfried, M., Börner, K., Hagen, R., Kimmig, S., Brandt, M., & Kimmerle, J. (2023).

Attitudes toward Engagement in Citizen Science Increase Self-Related, Ecology-Related, and Motivation-Related Outcomes in an Urban Wildlife Project

. BioScience, 73(3), 206–219.

https://doi.org/10.1093/biosci/biad003
Digital Media in formal and non-formal learning contexts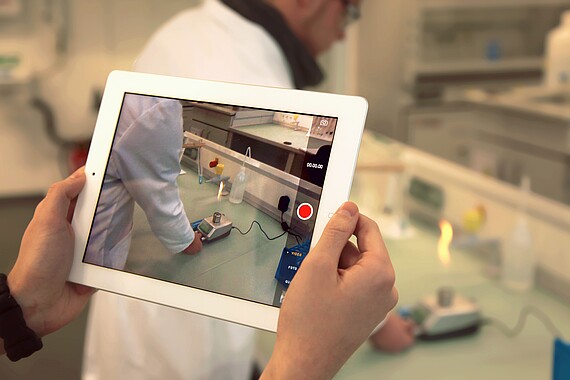 Furthermore, digitization enables expanded forms of representation and collaboration for knowledge construction in research in the natural sciences. For example, dynamic representations, such as videos and animations, of experiments are increasing practice, as laboratory techniques can be reproduced in more detail in video protocols. Online platforms open up possibilities for capturing, but also analyzing, collaboratively generated data sets and thus for collaborative knowledge construction in research projects. In this research focus, we therefore investigate the extent to which digital media as an epistemic practice in the natural sciences promote individual learning and knowledge construction.
Selected publications
Bruckermann

, T.,

Greving

, H.,

Stillfried

, M.,

Schumann

, A., Brandt, M., &

Harms

, U. (2022).

I'm

fine

with

collecting

data

: Engagement

profiles

differ

depending

on

scientific

activities

in an online

community

of a

citizen

science

project

.

PLoS

ONE

, 17(10), e0275785. https://doi.org/10.1371/journal.pone.0275785
Fischer, J.,

Machts

, N.,

Bruckermann

, T., Möller, J., &

Harms

, U. (2022).

The

Simulated

Classroom

Biology

: A

simulated

classroom

environment

for

capturing

the

action

-

oriented

professional

knowledge

of

pre

-

service

teachers

about

evolution

. Journal of Computer Assisted

Learning

, 38(6), 1765–1778. doi.org/10.1111/jcal.12718
von Kotzebue, L., Meier, M., Finger, A., Kremser, E., Huwer, J., Thoms, L-J., Becker, S., Bruckermann, T., & Thyssen, C. (2021). The Framework DiKoLAN (Digital Competencies for Teaching in Science Education) as Basis for the Self-Assessment Tool DiKoLAN-Grid. Education Sciences, 11(12), [775]. https://doi.org/10.3390/educsci11120775